Meet the current team of horses here at Gretgrix Equestrian
I'm A Nuisance (Snip)
16.1 hh 17 year old Chestnut gelding
1* Eventer
Snip joined our team in 2010. Although he had mainly showjumped before coming to us, his aptitude for cross country was evident with good results in PC HT with his previous rider. Snip successfully competed with Lauren in EA & HRCAV horse trials competition, where he had wins & placings at Level 1, Pre Novice & 1*. In 2012, they completed the CCI* at Melbourne Three Day Event. When not competing, Snip has been used for beginner & schoolmaster lessons, a testament to his wonderful temperament & education. Snip also competed successfully whilst on lease with a young rider in 2013 (whilst Lauren was pregnant) and resumed eventing again with Lauren in May 2014.
Snip has since gone on to have wins at HRCAV TTT Level 1 & at Great South Coast Horse Trials EvA105 in 2016, as well as many top 10 placings in the 2016-17 season at EvA105/1* level.
Tazen Jack Be Nimble (Henry)
14.2hh 13 year old Welsh Cob x TB Chestnut Gelding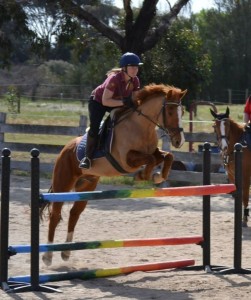 Intro/Preliminary Eventer
Lauren purchased Henry as a weanling and he is very much part of the family (and totally rules the roost!). Henry has competed & placed at Introductory EA horse trials and pointed up to Level 2 HRCAV Showjumping. Henry is available for school pony lessons for beginners to advanced riders & those wishing to jump. He is Mr Personality and will love you forever if you bring him a carrot or give him a scratch!
Henry is a fantastic lunge pony and therefore available for lunge lessons for children and smaller adults. He has had a wide range of clients – from small children through to adults learning to ride, or returning to riding after a break.
Typo
9yo 15.3hh Bay TB Gelding
Training EvA65 Eventer
Typo joined our team in 2017 and has successfully competed his first season of horse trials. He is suitable for more experienced riders and will be used increasingly for lessons as his education progresses as an eventer and as a school horse.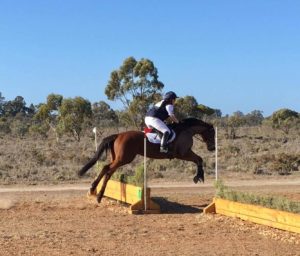 Kunat Golden Surprise (Prise)
12hh Welsh A 10 year old Gelding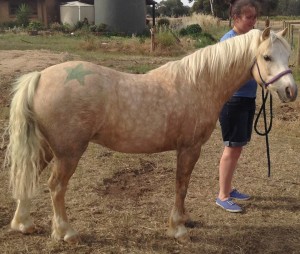 Prise joined the school pony team in 2013. He has plenty of experience with children and has attended Pony Club with his previous family. He is suitable for both beginners and more experienced smaller riders. He is a fun, forward moving pony and enjoys jumping.