Lauren has 23 years experience in the equestrian field. Her passion for horses led to completing an Advanced Diploma of Applied Science (Horse Management) at Glenormiston College. Lauren has years of experience in competing in a wide range of disciplines and has competed up to Equestrian Australia 1* and HRCAV Level 1 eventing.
In addition to her equestrian knowledge, Lauren is also a Workplace Assessor and Trainer and has experience in educating a wide range of people with differing learning styles. She is currently completing her EA NCAS Coaching qualifications, has current coach insurance and Working with Children certification.  Lauren is also a HRCAV Level Assessor.
Lauren is a regular coach at local Pony Clubs and Adult Riding Clubs and particularly enjoys teaching cross country; assisting riders to be safe, confident, and effective – and to have fun! 
Qualifications: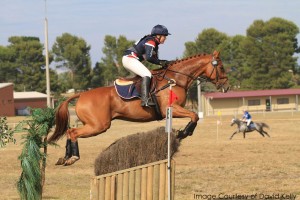 Currently completing EA NCAS Introductory and Level 1 General Coaching certificates
Working with Children certification
HRCAV Level Assessor
Certificate IV Training and Assessment
Bachelor of Applied Science (Agriculture)
Advanced Diploma of Applied Science (Horse Management)